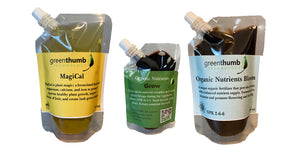 Buy the 3 pack and save. Organic total micro-nutrient complex for hydroponic indoor growing, plant derived fertilizers.
The 3 Pack includes:
Grow, 100 mL Organic Nutrients - for rapid plant growth during the vegetative phase. NPK 6-3-3
Bloom, 250 mL Organic Nutrients - 

provides plants with a balanced nutrient supply. Formulated to maximize flowering and fruiting. NPK 2-6-6

Cal-Magic, 250 mL - better known as Calcium Magnesium. Promotes vigorous, healthy plants growth, improves density of fruit, and creates lush green foliage.