Watch the Video
Enjoy pesticide-free food and save money on groceries. See how easy it is to grow in the comfort of your home.
Why Does Fresh Taste So Good?
Because it's packed with nutrients! Greens lose 50% to 90% of their nutrients within 24 to 48 hours from being picked. During winter, much of Canada's produce comes from 1,000s of km away. Brown slimy leaves on your greens is an indicator of nutrient loss. VerdeGardens are a made-in-Canada solution.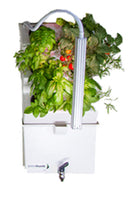 VerdeNibble, Grow 18 Plants
The Nibble is a vertical indoor garden with automated growing technology that makes growing food a breeze. The self-watering system and energy-efficient LED grow light take care of your plants' needs. Unlike other indoor gardens, the Nibble does not use seed cartridges because they are expensive and create plastic waste. Instead, you can use our seeds or your own.
Grow up to 18 plants at a time and save over $500/year on groceries. Comes with seeds to get you growing right away.
Shop Nibble
VerdeGraze, Grow 36 Plants
No time, no space, no know-how? No problem! Our technology is your Green Thumb. Growing with the Graze you will save over $800 on groceries every year, and you get to eat fresher, tastier and healthier food.
Grow up to 36 herbs, greens, cherry tomatoes, peppers, and more. Comes with organic and heirloom seeds to get you growing right away. After, you can continue to use our seeds, or your own.
Shop Graze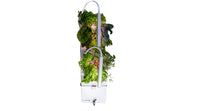 The Greenest Indoor Garden
As a company we are dedicated to people and planet before profit. Here's how we are doing it:
Made from Recycled Plastic
VerdeGardens are very durable and made from recycled plastic. They are manufactured in Canada and assembled by our small team of Green Thumbs in B.C.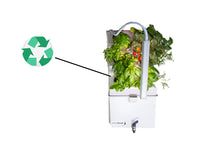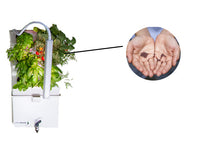 Affordability and Food Security
VerdeGardens do not use seed cartridges because they are expensive and create single-use plastic waste. We also believe no one should "own" control over seeds. We select organic and heirloom seeds that we know grow well indoors, but customers are free to use our seeds, or their own.
Coco Coir Seed Sprouter
Coco coir is a by product from the coconut industry and is quickly replacing less sustainable materials like peat. Unlike peat, coir is a renewable resource, while peat is one of nature's best carbon sinks. Coir is naturally anti-fungal, less acidic than peat, lasts longer and has a higher water retention. 
Compost the coir sprouter after harvest or add to your garden soil.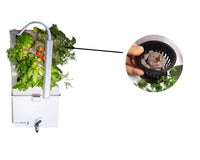 Plants grow in recycled glass
The coco coir seed sprouter sits in reusable pots and is surrounded with recycled glass, which provides the right amount of oxygen for plant roots.
After harvest, rinse and reuse the pot and recycled glass.
Here's how to grow with a VerdeGarden in 3 easy steps
Our automated growing technology takes care of your plants.
Customer Reviews
"We are making pesto weekly and eating spinach daily from ours. The peppers take longer to ripen, but are sooo tasty when they do." 

Christina - Haines Junction, Yukon
"Knowing where my produce comes from and the convenience of having it available to us on demand is nice, but also being able to save money on an organic grocery bill is a bonus!" 

Derek - Squamish, B.C.
"I've never grown food before. It's been super easy... It's all automated so not a lot I need to do on a day-to-day basis."

Steve, Whitehorse, Yukon
"I like the fact that I can have veggies or herbs all year round just by walking across the kitchen. I fall short in never fertilizing my plants, so I really like the fact that you supplied me with organic nutrient water and your system basically feeds itself."

Peg - White Rock, B.C.
"It's edible wall art, it supplies me with organic produce, I love to see things grow."

Amber, Vancouver, B.C.
"We live in a townhouse and don't have the space for a big garden. In our VerdeGarden we grow a little bit of everything... I love being able to grow food." 

Jennie, Squamish, B.C.
"I'm not very good at buying vegetables, and I've tried to come up with solutions like farmers markets and CSA in the summer, but there's no easy winter solution. So I figured if I had greens growing on the wall beside the kitchen, I'd be a lot more likely to eat them.

Reid, Whistler, B.C.
"The VerdeGraze is convenient as possible for townhouse living where we don't have gardening space in the backyard. Convenience, cost savings, and also being able to have our girls growing up knowing how food grows is pretty cool too."   

Kyle, Vancouver, B.C.